Dogs of the Special Forces
Jun 29, 2014
The Jagdkommandos are a Special Operations Group of the Austrian armed forces. These soldiers "train for operations in the most difficult terrain and weather conditions and extreme risk situations and climatic conditions."
The second training division of the Austrian special operations group – that of parachutist proficiency – was at one time was a human-only affair. These days the humans are joined by Belgian Shepherds, who have also taken on roles as paratroopers in Afghanistan and improvised explosive device (IED) sniffers in Iraq. The dogs trained to detect explosives and have become some of NATO's best bomb detectors.
Cover photo: The fourth NATO exercise "Operation Cold Response," featured approximately 8,500 soldiers and took place February 4th – March 4th of 2010. Countries represented included Austria, Britain, Norway, and 11 others.
*
What About the Dogs?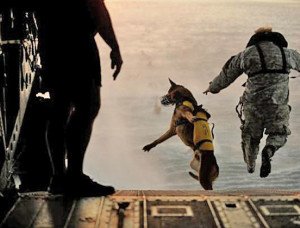 According to the handlers, the dogs in the special forces are usually calm before and after the jump.
Part of that may be due to canine's different perceptions to movement from those of humans. Explains one K-9 handler:
"[Dogs] don't perceive height difference the same way humans do, so that doesn't worry them."
The handlers assert that dogs are "more comfortable with the trip than some humans," and visibly more comfortable during the jump than they are during the roar of a helicopter or plane's engine.
The hound in the photos is an eager veteran, according to his Austrian handlers. The jump was from a transport plane at an altitude around 10,000 feet near Narvik, Norway (map).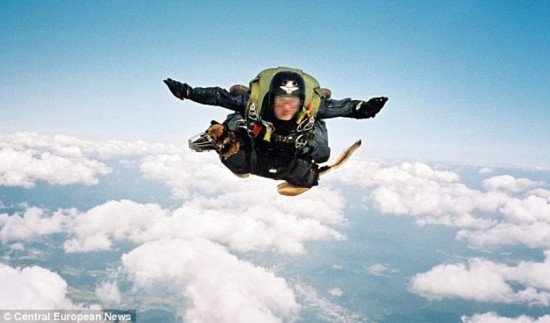 "It's something he does a lot and he's very comfortable with. He has a much cooler head than most recruits"
The muzzles are used to protect the dog from damaging its jaw during landing.
Lest anyone question the animals' status within the Special Forces, rest assured they are treated as important team members, and aren't "put into situations that could prove unnecessarily dangerous."
*
Other Forces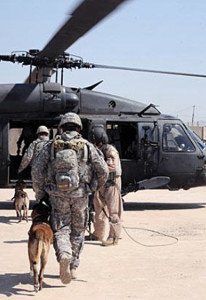 The Austrians were not the first nor only ones to employ dogs in the special forces. The British SAS has used German Shepherds to locate Taliban insurgents.
While most missions are officialy secret, we know the dogs have cameras strapped to their heads and send video back to the British Special Forces units.
The SAS hounds are also trained for High Altitude High Opening (HAHO) jumps (parachutes deployed at high altitude and long horizontal distance away from target location to allow for safe glide without being detected). The canines are tethered to their handlers and jump from heights up to 25,000 feet and 20 miles away from their target locations.
When necessary, the dogs are fitted with special masks to give them breathable air so they do not succumb to hypoxia (oxygen deprevation).
This slideshow requires JavaScript.
[ The first known group to train dogs in HAHO jumps was Delta Force. ]
Unfortunately, dogs have been employed for use by dark forces as well. Insurgent terrorists in Iraq have previously attempted to surgically implant stray dogs with explosives before sending them on international flights. However the insurgents were not doctors, and the amateur surgery resulted in a failed terrorist attempt. The dogs died from the effects of surgery and were ultimately never loaded on the plane.
*
Suppliers
"Dogs of the Special Forces" might be a market with limited prospects, but to Canadian police-dog handler Jim Slater, protecting law enforcement's canine companions is paramount to profits.
His company, K9 Storm Inc., has a near-monopoly on the market of tactical gear for dogs. From their "aerial insertion vest" to canine ballistic body armor, few companies can claim to offer such an array of military-grade protection for canines.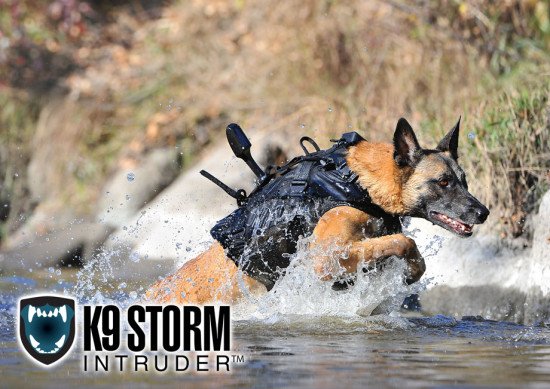 In 2010 the US Navy awarded K9 Storm $86,000 in contracts for the supply of "Canine Tactical Assault Vests" for wear by SEAL dogs. The model used by the SEAL canine commandos is the K9 Storm Intruder.
According to K9 Storm, "the Intruder" offers excellent protection from gunfire and shrapnel, as well as cutting weapons, ice picks, or screwdrivers.
The protection system also includes an infrared night vision camera and a voice communication system to allow the handler to see what the dog sees, and then send commands to the canine.
This slideshow requires JavaScript.
images courtesy K9 Storm
Further details of the K9 Intruder model made for the SEALs is classified.
[ Did You Know? K9 Storm was founded by former Winnipeg police dog-handler Jim Slater after he was forced to improvise body armour for his partner Olaf. Working ahead of the guard lines, Olaf was stabbed with a screwdriver during a prison riot in 1996. ]
***